New Year's Eve Guide: Where To Ring In 2017 In San Francisco
2016 has been one heck of a ride.
We were rocked by stunning celebrity deaths (RIP Harambe), watched golden boy Ryan Lochte fall from grace during the Rio 2016 Olympics, and elected a new president — with the help of Russia. But hey, Leonardo DiCaprio finally won his first Oscar, right?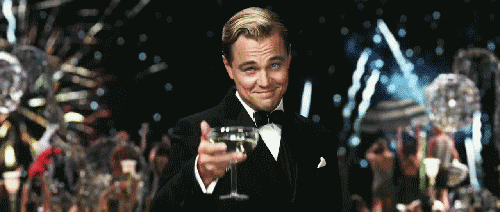 New Years Eve is a day to spend with loved ones and reflect upon the crazy year we either conquered or were defeated by. But it's the night where we leave it all on the dance floor and toast to a new year filled with hope and unforeseen adventures.
This guide is filled with amazing fun-filled events for all ages, from roller discos to mega-hotel parties, chill wine bars to front-row views for the fireworks display. Whatever you do this NYE, remember to cherish every moment of this fleeting year, stay safe, drink responsibly. We wish you a happy new year!
SF Guide: New Year's Eve in San Francisco
New Year's Eve Black and White Roller Disco | Church of 8 Wheels, 554 Fillmore Street, San Francisco, CA | NYE, 7:00PM–1:00AM | www.eventbrite.com
Roll, spin, twirl and rock out to old school funk and disco in style at the Church of 8 Wheels' Black & White Roller Disco this NYE. Don't worry about wearing a tux or ball gown, just stick to the black and white theme. As if skating the night away to disco wasn't enough to convince you, snacks and party favors will be provided in addition to a champagne toast at midnight.
Lil Dicky: The Big Ball Drop NYE | The Village, 969 Market Street, San Francisco, CA | NYE, 9:00PM–2:00AM | www.nightout.com
Skillfully incorporating a mix of comedy and witty word play, rapper Lil Dicky has risen to new heights in 2016, earning a spot on this year's XXL Freshman roster. His first commercial album "Professional Rapper" debuted at #7 on the Billboard Hot 200 with hits like "$ave Dat Money." Party and laugh the night away with Lil Dicky and be thoroughly entertained at The Big Ball Drop NYE event.
NYE 2017 at Whitechapel | Whitechapel, 600 Polk Street San Francisco, CA | NYE, 9:00PM–2:00AM | www.eventbrite.com
Drink the night away with DJ Captain Hat at Whitechapel's gin-fueled New Year's party! At Whitechapel's NYE party you'll enjoy specialty cocktails, in addition to complimentary Fruits De Mer and small bites from 9:00–10:00PM. Get ready to party like it's 1899 in steampunk fashion!
NYE International Ball 2017 | Palace Hotel,  2 New Montgomery Street, San Francisco, CA| NYE, 9:00PM–2:00AM | www.eventbrite.com
Party like royalty at San Francisco's magnificent Palace Hotel this New Year's Eve. You'll enjoy a red carpet experience with the Palace's four separate rooms, a fantastic lineup of DJs, a 4.5-hour hosted open bar, party favors, and more.
W San Francisco New Years 2017 | W Hotel SF, 181 3rd Street, San Francisco, CA | NYE, 9:00PM–2:00AM | www.sfnewyearseve.com
Located in the heart of SoMA, the W San Francisco New Year's 2017 party is guaranteed to be action-packed. Here you will find six DJs spinning the latest hits in five separate rooms, along with a 4-hour hosted premium bar, and two lounge areas — all within three levels of electric energy. Dress to impress and prepare to ring in 2017 in style at the W!
Under the Dome New Year's Eve San Francisco | Bespoke at Westfield SF Centre, 865 Market Street, San Francisco, CA | NYE, 8:00PM–2:00AM | www.eventbrite.com
Ever been into the Westfield SF Centre and gazed up at the 4th floor's dome? Well this NYE, you can party at one of the most unique venues in San Francisco: Under the Dome! With two dance floors featuring ten DJs — including DJ Midnight, E20, and Weapon — who'll be playing the latest club hits and Latin grooves, accompanied by state of the art sound and light systems, you'll be jumping into 2017.
Metropolitan NYE 2017 | The Endup, 401 6th Street, San Francisco, CA | NYE, 9:00PM–2:00AM | www.eventbrite.com
Celebrate New Year's Eve at the Metropolitan NYE event, and ring in the New Year with Marquee Las Vegas resident Romeo Reyes at The Endup. DJ Escobar will also be present bringing South Beach vibes with Latin rhythms. Enjoy the Hollywood treatment in the outdoor patio area featuring a photoshoot experience for you and your friends!
IMAGINE: A New Year's Fairytale Gala | The Payne Mansion, 1409 Sutter Street, San Francisco, CA | NYE, 9:00PM–2:00AM | www.nightout.com
Dubbed "Disneyland for Adults," this New Year's Fairytale Gala features 11 fairytale-themed worlds with various performers from cirque to singers, theatrical lighting, and dazzling visuals entertaining guests all night long. This red carpet event will also feature a premium open bar, champagne and oyster bar, a cigar and whiskey lounge, wine tasting room, craft beer tavern, and so much more! Join in on the unique festivities and prepare to travel into another year this at the IMAGINE: New Year's Fairytale Gala for a night you won't forget!
Epic NYE 2017 | The Park Central Hotel, 50 3rd Street, San Francisco, CA | NYE, 9:00PM–2:00AM | www.eventbrite.com
With two levels of entertainment, six of the Bay Area's best DJs spinning on four dance floors using only the best sound and lighting systems, and epic balloon drops, the Epic NYE Party at Park Central Hotel is San Francisco's premier party location to ring in 2017!
NYE 2017 – Fireworks on the Embarcadero | Sens, 4 Embarcadero Center TOP Level, San Francisco, CA | NYE, 9:00PM–2:00AM | www.eventbrite.com
Grab front row seats to San Francisco's million-dollar fireworks show this NYE at Sens' New Year's Eve 2017 party on the Embarcadero! Here you will dance the night away on two dance floors featuring House, Top 40 and EDM music, and watch fireworks while overlooking the Bay Bridge and Ferry Building in style!
Looking for something more low-key? Head out to one of our favorite wine bars to ring in the New Year.
Fig & Thistle
$$$ | 313 Ivy Street, San Francisco, CA
Cozy living room-style wine bar serving rustic wine, beer, meats and cheeses. Patrons pour out the door, imbibing on the Ivy Street-facing stoop.
Yield
$$ | 2490 3rd Street, San Francisco, CA
Based in the Dogpatch, Yield is a cozy lounge that focuses on biodynamic and organic wines from all over the world. Yield also serves up gourmet snacks.
ENO Wine Bar
$$ | 320 Geary Street, San Francisco, CA
Located in Union Square, ENO is a chain wine bar with a slightly more touristy clientele. Wines by the bottle, flight or glass, plus cheese, charcuterie and chocolates are served in this elegant space.
Press Club
$$ | 20 Yerba Buena Lane, San Francisco, CA
Located on Yerba Buena Lane, Press Club serves seasonal small plates and a long list of hard-to-find wines and beers in an uber cool cellar/lounge atmosphere.
Noir Lounge
$ | 581 Hayes Street, San Francisco, CA
In the heart of Hayes Valley is Noir Lounge, a swinging jazz-era wine bar and pub, serving both small and large plates to share, with vintage films screening throughout.